A few weeks ago, J had to drive eight hours on a business trip. If the timing had been different, I would have been in the seat next to Him providing distraction and amusement during an otherwise, long and boring trip. Instead, I stayed at home and experimented with some recipes. I made Chicken B'stilla (Moroccan chicken pie) using up what was left of a hand of ginger, as well as tons of other herbs and spices. I must say it smelled and tasted heavenly. Very spicy, savory, and rich, with a combination of sweetness and hotness, a bit of BDSM in a pie.
I enjoy cooking, I use recipes loosely. I like bumping up the flavor, if some spice is good, more is better. I love cutting, chopping, and mixing. However, my mind was far away, fantasizing about being His plaything and a different type of spiciness altogether.
He arrives to pick me up, asking if I was ready to go. I reply in the affirmative, but He tells me that He thinks I need a bit of last minute preparation for the ride. Bending me over the back of the couch, He raises my skirt revealing my ass cheeks bared by my thong. The height of the couch comes to the tops of my thighs. He pushes my shoulders all the way down, until my arms are resting on the couch cushions and my bottom is angled up in the air. Pushing His foot between my feet, He slides my feet apart, spreading my legs and exposing me completely. In this position, with my head down, I cannot see Him, but I feel the sting and hear the slap as He brings His hand hard across my ass. He is spanking me hard and fast, giving me five to ten strokes, then pausing to rub my reddened skin and dip His fingers down into my wet slit. As I begin to grind against His hand, He steps back and resumes the spanking. I lose track of how many strokes He has given me and my ass is on fire with the burn, He pauses again to rub my hot skin and even hotter cunt. His prolonged spanking has left me red and stinging and also wet and needy.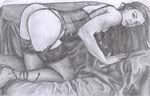 Still in position and unable to see, I hear His belt being unbuckled and slipping from its loops. Anticipating what is coming, I squirm a bit and feel my muscles unconsciously tense. I hear the belt cut through the air and feel it comtact my skin. I cry out and grip the cushions of the couch. The strokes of His belt continue until I am struggling not to pull away. Tears are running down my face and my cunt is dripping down my legs. When my ass is red, stinging and welted, He steps very close behind me, pulling me up, He leans me back against Him and wraps His arms around me from behind. He slides one hand down to my cunt and the other hand slips under my top to my breast. As His fingers close on my nipple and I am pushing hard on His other hand that is rubbing my clit, I feel His teeth close on the curve of my neck. I moan loudly and feel my climax well up inside me, but He tells me not to cum yet. I am shaking and panting as I fight to stop myself from riding the wave of the orgasm that He has begun in me. I am teetering on the edge and I am begging Him. I need His cock, I need Him to bend me back over and fuck me. I need to be filled up with His cock, I need to cum for Him. As I am pleading with Him, He pushes me back over the couch. I hear Him unzip His pants and feel His cock slide against my slit. I try to push back against Him, but He is teasing me. Pushing His cock just inside of me and then pulling back, ever in control. I am crying softly out of need and frustration, I want to scream and demand, but I won't, because I am His to play with in this way. His pet.
He steps back, away from me. He smiles at me and tells me that I am a greedy little slut. I look back at Him and see Him pull a small bag out of His pocket containing a plug carved from ginger. As He pushes the ginger plug into my anus, He promises that I will be able to cum soon. He tells me if the ginger gets too intense, I can remove it, but He thought it would make the trip much more enjoyable for both of us. Especially Him, and isn't that what I wanted? I quietly answer yes, as I kneel before Him and begin to clean my juices from His cock with my tongue. I feel the heat of the ginger spread from my ass to my cunt as I slide my lips all the way down His shaft.